Projects
Tailoring Skill Development training - Funded By Guru Krupa Foundation, USA
Tailoring skill training centers are set up in 2 locations in Vennandur block
Girls and women in the age group of 18 to 35 receive the training
Total of 240 girls will be benefitted in 3 years
The trainers are trained by industry experts and the curriculum design is done in consultation with them
Guest lectures by Industry experts are arranged to provide exposure to the trainees
Apart from tailoring training, life skills training are also given to the women
After successful completion of the course the women are placed in jobs in nearby textile industries or become self employed


Tailoring Skill Development Training - Funded by Cognizant Foundation - Chennai
In this project we provide skill training in tailoring for 120 women from Below Poverty Line (BPL) families, living in four panchayats (Viz. Pothanur, Pandamangalam, Vengarai and Velur in Kabilamalai union, Namakkal district, Tamil Nadu).
The program objective is to facilitate livelihood opportunities for the poor women, by providing placements in the nearby textile factories or supporting them for setting up their own units, as applicable.


My Dream Scholarship program - Funded by Cholamandalam Finance and Investment Ltd
"My Dream" scholarship program utilizes a comprehensive poverty alleviation model that focuses on individual children of trucker communities, while bringing lasting change on a community-wide scale. The program's primary objective is to provide severely underprivileged children with the resources they need for college education, technical education or higher studies instead of having to enter into the labour force. Project helps students to getting independent and productive citizens through educational and training opportunities. 40 children are getting scholarship in this project.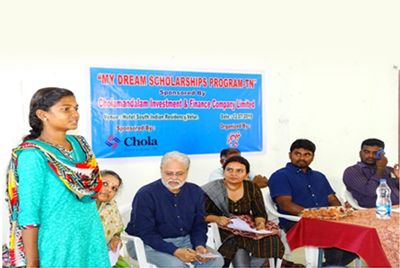 Safe Drinking water - Funded by Korea Hope Foundation
Through this project we have provided bore wells and hand pumps in 7 villages. 1,528 people are benefited in this project. Because of this project, these 7 villages have clean drinking water facilities.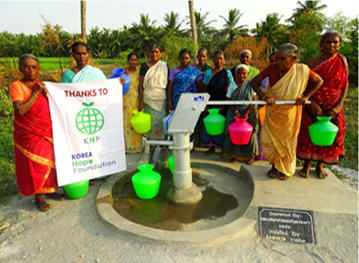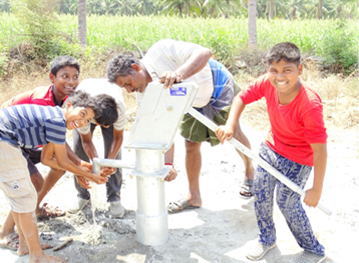 Organic Horticulture to ensure sustained Livelihoods for the marginal women farmers Funded by - Hand in Hand
This project is to educate and involve 35 women farmers of dalit community in 5 villages in Namakkal District, who possess about 30 cents to 100 cents of land at the maximum, to practice organic farming.
The training supports them with inputs to do their land preparation, put manure for the field, seeding, growing saplings in their small land holdings. This gives the women farmers regular income and livelihood to their families, thereby making the women empowered economically and socially.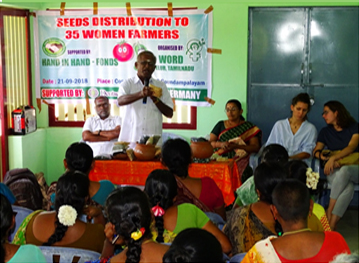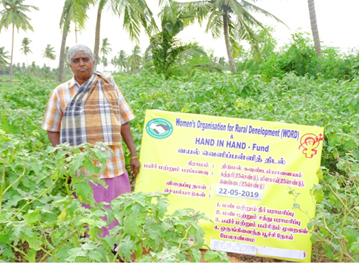 photogallery